NCA registration: How to register as a contractor in Kenya
If you are looking to get into the construction industry in Kenya, you will need to deal with the National Construction Authority. It is a requirement of the law for an individual as well as construction companies in Kenya to seek the NCA registration. All the registered contractors in the country have gone through this process in order to land an NCA certificate authorizing them to work.
What is National Construction Authority Kenya? NCA is the body that is tasked with registering contractors in the country in addition to maintaining the list of registered contractors in Kenya. It is a government body that regulates, streamlines, and builds capacity in the construction sector. This is done so that rogue contractors can be eliminated thus improving the quality of buildings and their ultimate safety. Other things that the body is responsible for include training contractors and artisans, registering projects, and contract renewals.
NCA registration requirements for contractors
There are several requirements you need to register as a contractor namely:
Your national identity card or passport accompanied by a coloured passport photograph.
A certificate of incorporation issued by the Registrar of Companies. This means you must have a legal registered company in the form of a sole proprietorship, limited liability, or partnership.
Academic certificates from accredited training centres and any relevant testimonials for qualified directors.
The NCA is a tax compliant organization so you need to provide tax compliance certificates from the KRA.
At least three years audited accounts as well as any other pertinent financial data.
A membership certificate for the contractors association.
A certified copy of a valid business license.
If you are going for electrical engineering, then include a valid certificate issued by the Energy Regulatory Commission.
Certified copies that prove assets ownership.
A CR 12.
The registration fees. These vary depending on the category you want.
NCA application
How do I register as a contractor in Kenya? Once you have all the requirements for the NCA registration process, you are ready to proceed. You can do so easily by using the National Construction Authority portal. Once on the portal, follow the following steps:
Click on the tab that says "Local Contractor Registration Portal."
Using your national ID number or passport details register for an account and then create your account. Once you do this, log in.
Once you are in, click on the tab for a new application and then select new contractor registration.
Submit the necessary documents and wait for an email to inform you of the charges and the mode of payment. Expect a text message as well with a follow-up.
After paying, input the payment details on the portal and then follow the instructions.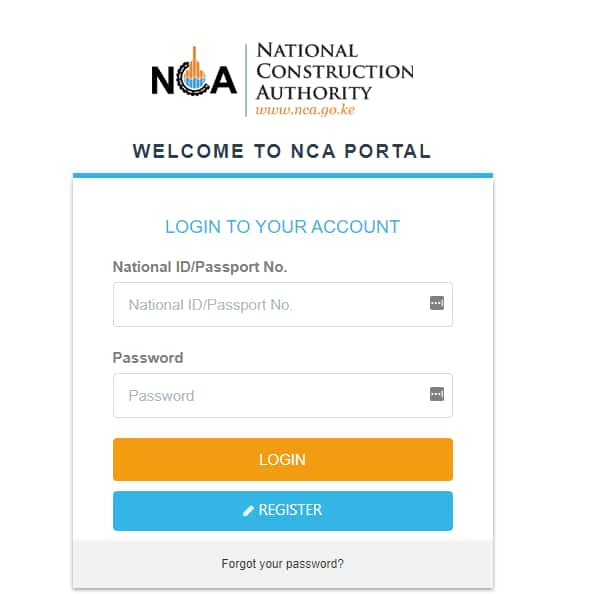 NCA project registration
Do you have a project and wondering how do I register with NCA? Project registration is necessary to keep proper records, which helps in easier and systematic quality assurance. You can do your NCA project registration online easily. In fact, with new developments, project registration can take as little as a day to complete. Some of the things you need include:
Approved architectural as well as structural designs.
If the project is commercial, then you will most likely need a NEMA license.
A summary of the page of bills of quantities.
The developer's KRA pin.
Physical planning forms (PPA2).
The contractors and all subcontractors need to be registered with the NCA.
Project consultants must also be registered with their respective bodies. Their registration numbers will be needed.
Once you have all these, you can proceed by filling the NCA application form online or physically, free of charge. To access all project registration services online, you require your email address and password.
NCA site supervisor registration
Site supervisors also need to be accredited. Their requirements for registration include:
National ID card or passport as well as a coloured photograph
A NITA test (at least grade three)
A certificate of technical qualification issued by an accredited training centre
With these, one can register physically or online. If you opt for the physical registration, you will have to get the accreditation form from the NCA offices and fill it properly. Once you fill it, submit the form, the required documents, and pay the fees. After that, you wait for your NCA certificate.
If you do it online, simply go to their website and go to the construction work section. Head over to the new application tab and click on accreditation. Fill in the form and submit your documents. Submit the payment and submit those details as well then wait for your certificate. Keep in mind that the accreditation lasts for three years, which can then be renewed again.
License renewal
How do I renew my NCA license? How do I renew my NCA card? As long as you are registered, you automatically qualify for a renewal. Simply head over to the portal and select the contractors' tab then click on renewals. Use your registration number and then load licenses. Submit the information and any other documentation, pay the charges, and get your certificate. Here are the practising license renewal fees
Annual renewal fees
Foreign contractors, regardless of the category, will pay USD 1,500 to renew a licence, and USD 4,500 for defaulting to renew. Local contractors are charged in Kenyan shillings as per the category that they fall into. Below are the charges for renewing and defaulting to renew:
NCA1 – 30,000: 90,000
NCA2 – 25,000: 75,000
NCA3 – 20,000: 60, 000
NCA4 – 15,000: 45,000
NCA5 – 12,000: 36,000
NCA6 – 10,000: 30,000
NCA7 – 5,000: 15,000
NCA8 – 2,500: 10,000
NCA contacts
For inquiries and complaints, reach the organization through the following options:
Physical location
9th Floor, KCB Towers
Kenya Road, Upper Hill Area
Nairobi, Kenya
P.O.Box 21046-00100
Customer Service Department
Telephone: (+254)709126173/172/102, 0701913723/140
Email: info@nca.go.ke